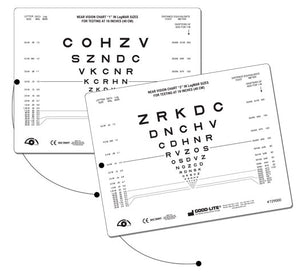 Sloan Letter Near Vision Card
Standardized adult Sloan Letter near vision card with proportionally spaced (logMAR) lines in ETDRS format; line sizes range from 20/400 to 20/10 (6/120 to 6/3) equivalent. Attached 16-inch (40 cm) measuring cord ensures proper screening distance. Printed on two sides. 7" x 9" (17.8 cm x 22.9 cm).
16 inch, 40 cm testing distance.