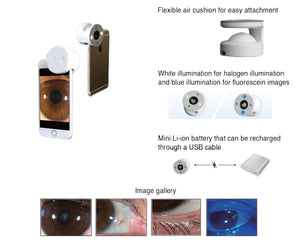 QuikVue Adaptor
As imaging plays a more and more important role in ophthalmology diagnosis, the QuikVue Adaptor for smartphones was designed for anterior segment imaging.
Features:
10x magnification which meets the basic eye examination demand for optometrists, general practitioners, pediatricians, veterinarians, etc.
Optical lens that captures clear anterior images for primary eye care examination and telemedicine.
White and blue illumination. The white LED projects warm white light which is similar to the slit lamp's halogen illumination. There are two levels of white illumination available to meet different brightness demand during examination. The blue illumination can be used to capture fluorescein images to assist the diagnosis with corneal staining and contact lens fitting, etc.
An innovative air cushion design enables the adapter to be attached on most smart phones available in the market.
Mini Li-ion rechargeable battery that can be recharged through a USB cable. There is one recharging status indicator at the back side of the device. When the power recharging is finished, the indicator light will turn from red to green.