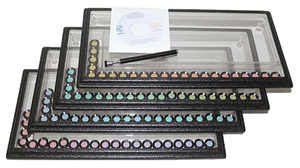 Magnetic 100 Hue Color Test
For many years, anyone administering the Farnsworth 100 Hue Tests have complained about how patients cannot avoid touching the color discs. Further, the discs are very easy to lose, resulting with test kits becoming compromised.
The Magnetic 100 Hue Color Test solves this problem. The discs have been magnetized and encapsulated in a sealed clear plastic box. The patient selects the discs using a magnetic pen to move them into a scoring area. When complete, scoring is easily accomplished by reading the scores through the bottom of the box. Tip the box and shake the discs into the selection area for the next patient!
Features:
Magnets move the color discs
Protects discs from fingerprints and soiling
Keeps all the discs in one place
Clear plastic cover insures accurate color perception