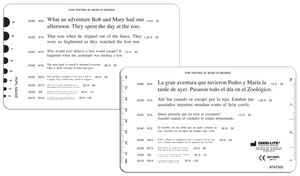 English and Spanish Continuous Text Reading Card
English and Spanish language combination Continuous Text Reading Card for 16 in (40cm). One side contains simple English sentences in proportionally spaced (logMAR) lines on one side with simple Spanish sentences on the other. Line sizes range from 20/80 to 20/16 (6/24 to 6/4.8) equivalent.
Near vision reading card also contains pupil gage on one side and ruler for both metric and inches on other.
Printed on long lasting and durable styrene plastic and card measures 3.75" x 6.25" (9.5 cm x 16 cm).