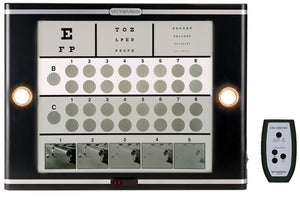 CSV-1000 HGT Test Instrument Viewer with Glare Lights
The gold standard for contrast sensitivity and glare testing has been updated and improved. The new CSV-1000 HGT has been redesigned with a modern look including integrated glare lights. The CSV-1000 HGT still provides superior ability to detect and quantify subtle changes in vision. Patented photocell circuitry automatically monitors and calibrates instrument testing light levels.
CSV-1000 HGT is the only self-standardized contrast sensitivity testing instrument
Intergrated glare testing lights
Easily operated by wireless remote control (included)
Can easily stand on a table or hang on a wall or be used with rolling floor stand (sold separately)
The CSV-1000 HGT includes the following: CSV-1000 HGT instrument, remote control (with battery), test score recording pads, your choice of test face(s), and instruction manual.