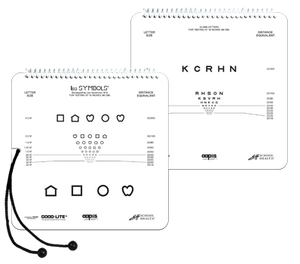 AAPOS Near Vision Screener
Near vision flip chart only from the AAPOS Vision Screening kit. Easy to use near vision flip chart with 16" (40cm) measuring chord comes with 2 cards printed on both sides with LEA SYMBOLS®, LEA NUMBERS®, HOTV and Sloan Letters optotypes. Screening line sizes range from 20/200 to 20/16 equivalent.
The spiral bound near vision flip chart measures 6" x 6" (15.24cm x 15.24 cm) on styrene plastic for long lasting durability.