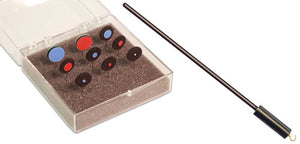 Tangent Screen Test Objects
This 9 piece set of flat test objects of are mounted on non-reflective washable vinyl with a black felt background and pin shank for use with tangent screens. Includes 18" Tangent Screen Wand. The flat objects included in this set are:
A Red/white 18mm object (920107)
A Blue/green 18mm object (920104)
A Blue/green 10mm object (920101)
A Red/white 10mm object (920102)
A 1.5mm object white on both sides (920106)
A Blue/green 6mm object (920112)
A Red/white 6mm object (920113)
A Blue/green 3mm object (920109)
A Red/white 3mm object (920110)
Along with the 18" Tangent Screen Wand (920000) each object can be purchased separately with their respected number.