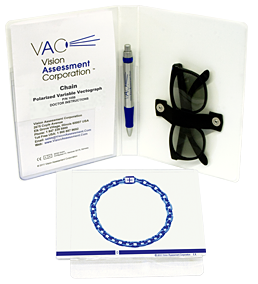 Chain Polarized Variable Vectograph Vision Therapy System
Three-dimensional Chain Vectogram image to provide an introduction to binocular experiences. 16-diopter range for Base-In (Divergence) Training and 24-diopter range for Base-Out (Convergence) Training with total accommodation range of 40-diopters.
Includes: Therapy Binder, Right & Left Vectographs, Vecto Guide, Standard Viewer, Doctor & Patient Instruction Manuals and Recording Form with Pen.