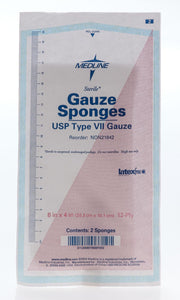 GAUZE, SPONGE, 8"X4", 12PLY, STERILE, LF, 2/PK   50PK/BOX
These USP Type VII cotton sponges are ideal for wound dressings, wound packing and general wound care.
Our strictly controlled manufacturing process assures clean,debris-free packing with folded edges to prevent unraveling.
Sterile 2's are packed in a coated paper envelope to reduce fiber debris.
This easy-open envelope is also carefully sealed to prevent the intrusion of dust and contaminants.