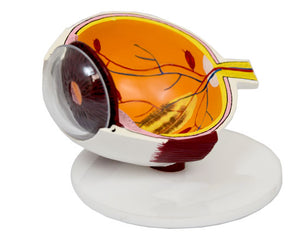 VTD Eye Model
The Vision Threatening Disease (VTD) Eye Model assists the ophthalmic professional in educating patients about the three most common diseases (Glaucoma, AMD and Diabetic Retinopathy). This realistic, brightly colored model of the human eye demonstrates the basic parts and features of a human eye. It also shows the patient what the disease looks like and what it is doing to the eye. This allows the ophthalmic practitioner to explain and discuss many eye related issues with patients.
The model also shows a cross section in three layers; the retina, choroid, the sclera with veins and arteries, plus the central retinal. It is made of plastic, measures six (4) inches in diameter, and is mounted on a sturdy, opaque, plastic base.
The model provides the opportunity to ease patient uncertainty. Quick and easy to use. This unique model will save the doctor or technician time.