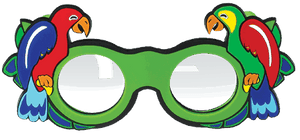 Parrot Hyperopia Plus Lenses
Who said serious tests had to be done with boring test glasses? Add some fun to your Hyperopia tests with colorful Parrot Fun Plus Lens to help with children's vision tests. These screening/testing plus lens are very colorful and are extremely durable!
Not for possession by children under 3 years old. Also available as butterfly, tigers and horses.